The ergonomic evolution of handheld
BEST CAMERA SUPPORT TECHNOLOGY
IT TAKES THE WEIGHT, YOU JUST OPERATE.
We can now have the freedom of an untethered handheld camera without compromising our back health. The concept is simple: prevent spinal compression while allowing an operator to operate handheld like they would traditionally, without affecting the camera's movement or balance. 100% of the weight is transferred from your shoulder and back to your hips, bypassing your spine entirely. There is a way to handhold a camera ergonomically, and this is it.
We don't have any products to show here right now.
What's amazing to me is how the camera sits level on the shoulder. There's no tendency for the camera to slide down or any need to tighten muscles to compensate for the slope of your own shoulder. With the Ergorig, the weight of the camera is distributed to the body making long handheld takes much more comfortable.
You throw a camera on your Ergorig and the first thing you think is, 'Where did the weight go?' The ergorig is comfortable, adjustable, and doesn't restrict movement.
Veep, Good Girls, Kevin from Work
The Ergorig is a great relief from your normal aches of handheld camera operating. It allows you to work in the way you are used to while preventing back pain.
Scream Queens, Step Up: High Water, Stan Against Evil
Glee, American Crime Story, Feud
Designed with the health of the Camera Operator as a priority without affecting camera movement and control.
Independently adjustable midriff plate/strap
Walkie, Comtec,
Accessory loops
- Easily broken down for travel, can fit in your suitcase
- 1/4 or 1/2 apple "built into your shoulder" when you need that extra height
​
- Lightweight at only 5 lbs
​
- Set bag included
Rear strut re-mountable for different body types
With the Undersling attachment, you can now use your Ergorig to shoot underslung while still transferring all the weight to your hips, totally bypassing your spine. The catch/release mechanism uses a small strap to quickly attach it to the top handle of any camera and find the balance point. The dynamic band is adjustable on the fly to get to your desired shooting height- low against the ground, on your shoulder, or anywhere in between. Just release tension on the band with your right thumb to slide the camera lower or pull the band through with your left hand to raise it higher. If you need a little extra height, throw on the Undersling Riser. The band also has some serious elastic properties, so it will take steps out when you're moving where other systems don't. Ready to put the camera back on your shoulder? Just release the tension on the band, put the camera on the shoulder pad, and enjoy the weightlessness of traditional handheld with your Ergorig.
Fully accessorized Alexa 65 with anamorphics?
No problem. Want to go handheld with that "way too-heavy" zoom? Ergorig will support the weight for you. Made in Los Angeles and engineered to withstand set life job after job.
To keep your body safe, an orthopedic surgeon was consulted while designing Ergorig. It transfers weight off the shoulder and thoracic/lumbar vertebrae to the hips, which can support much more without danger of injury. You'll feel like you're barely carrying anything.
Ergorig's patented, sleek design is light weight, and doesn't extend out from your body. Run through doorways, sit down, stand up, crouch, spin around- it will support the weight without getting in your way.
Don't ignore your back's health. Take care of your body without affecting the quality of your work, and say goodbye to back pain and unnecessary health care costs.
Ergorig has been designed to be quickly adjusted to fit different body types, as well as adjusted on the fly to keep you comfortable take after take. Once fit to your body, a small adjustment to the front strut gives you that extra inch of height you needed.
WE SHIP WORLDWIDE & FREE U.S. SHIPPING!
Designed for Camera Operators by a Camera Operator
After years spent with heavy cameras on my shoulder, I joined the long list of Camera Operators with permanent back damage. The creative desire for shooting handheld, long takes, and the heavy cameras had all taken their toll. I decided I needed to find a new solution if I wanted to keep operating. All the other rigs out there were cumbersome, only took some of the weight, and attached to the camera, influencing the shot in an undesired way. I wanted something that allowed me to sit, stand, tilt and pan without influencing the camera movement, but that took all the weight off my shoulder and back. After building a proof of concept, I had an eureka moment when I tried it for the first time and barely felt the weight of a camera. After more than two years of prototyping, testing, adjusting, and getting other operators' feedback, the Ergorig was born. A rig that allows a camera operator to keep working and delivering the Director and DP's visions without compromising their health.
Sons of Anarchy, Veep, Pose, The People v. OJ Simpson, The Assassination of Gianni Versace, American Horror Story, The Disaster Artist
How does it adjust fit my height and body type?
---
The rear strut's position on the belt only needs to be set once, and has different positions along the rear of the belt for different waist sizes. This adjustment effectively sets the position of where the shoulder of the rig sits relative to your neck, because it is setting the length of the belt between the struts on your right hip. Simply remove the four screws and replace them in the new holes for the desired belt size. Press down on the belt so it creates a flat surface to make it easier when replacing the screws. Height adjustments of the front and rear struts can be made by loosening the two knobs on each, while on or off your body. Most operators prefer to have it sit just above their shoulders, low enough to feel a little contact, but high enough to not actually feel any weight. (You can also float the rig as high as you want above your shoulder if you want the camera to sit higher) Once you have it around the right height (with the front and rear struts more or less even), to make small adjustments you only need to adjust the front strut's height. Keep in mind you want the belt to sit just above your hips, so when there is weight on the rig it will rest onto your hips- and tighten it as much as you can. The midriff plate/strap can be raised/lowered independently to the desired position along both the front and rear struts to move the side strap to a comfortable position across your torso (below your left arm). For female operators, this may be either above or below the chest line. The rig will settle a little bit when the weight of a camera sits on it, so make sure to throw a camera on to feel how it will be when operating. Lastly, the shoulder plate can be angled as well as slid away from your neck if needed by loosening the four mounting screws on the top of the struts. See this video for more info: https://vimeo.com/332911283/cca2b56b29
---
How much does it weigh?
---
A measly 5 lbs
---
Do I want the regular or short size?
---
The regular size will fit the majority of operators, but if you have a shorter torso, go for the short. Measure from your front hip point to the top middle of your shoulder. If you're less than 20" order a short. Your front hip point is the part that feels like the tip of the triangle in your hip on the front side that is right around your belt line. Of course there's overlap between the two sizes, so if you're right at 20" either will work. The only difference between the two sizes is the length of the struts- the belt size is the same.
---
How does it pack for travel?
---
Ergorigs can easily collapse to pack away by unscrewing the front and rear screws from the struts to detach the belt. If you need it even smaller, you can also remove one or both of the struts from the shoulder plate by unscrewing the top two or four nuts.
---
Are the pads washable?
---
Yes! The front, back, and lower shoulder pads are removable and washable.
---
How do I undersling the camera?
---
The best way is to use the Undersling attachment, which allows for elegant on-the-fly adjustable underslung shooting with the same weight transfer as if a camera was on top of your Ergorig. Just wrap the strap on the capture/release mechanism around the top handle of your camera at it's balance point, buckle it in and you're good to go. Feed the band through, and use your right thumb to release the tension and your left hand to pull it through to set your desired operating height. The Undersling kit comes with two bands, the capture/release mechanism, and the plate to attach to your Ergorig. If you already own an Ergorig, you can purchase the Undersling attachment seperately. Your rig already has the holes ready to attach the top portion of the Undersling to it. Five screws and it's ready. If you want to shoot underslung without the Undersling attachment, you can also just attach any strap to an eyelet the top handle of the camera and wrap it around the top gripping pad on your Ergorig. It will take the weight, and the midriff straps will keep everything in place.
---
Can you ship outside the US?
---
Yes, shipping charges can be seen in your cart, and you are responsible for any local taxes or tariffs. If you'd like to be informed when we have dealers able to sell locally in your country, please email us.
---
Where can I rent from?
---
Panavision, AbleCine, ARC, HD Optics, Lightstone, Antagonist Camera, DC Camera, The Camera Dept., and Keslow all carry Ergorigs, or check with your local rental house as more and more are carrying them.
---
What's your return policy?
---
We're pretty sure you will love it, but if for whatever reason you're not happy with your Ergorig, you can return for a full refund within 14 days of arrival, as long as it is still in new condition and you're responsible for return shipping.
---
Does ergorig fit female operators?
---
Ergorig is made for all operators, women included. Most women prefer to adjust the midriff strap either above or below their chest line, and some prefer it to sit straight across. The midriff strap is there to stabilize the rig to your body, and is not part of the weight transfer method, so it can be adjusted for comfort. If the front strut is pressing up against you too much, please email us for custom fit solutions. We always want to keep improving, making handheld comfortable for everyone, so please let us know if you have any issues.
---
How do I set up my Undersling?
---
This two videos will walk you through it: https://vimeo.com/385424250 https://vimeo.com/368424599
---
What about walking/running/sitting with an Ergorig?
---
Everything you can do with a camera on your shoulder you can do with an Ergorig. If you're curious about how traditional shoulder handheld compairs with Ergorig handheld, see this demo video (see the playlist for specific videos):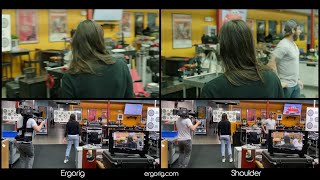 ---
How do I install my Undersling Riser?
---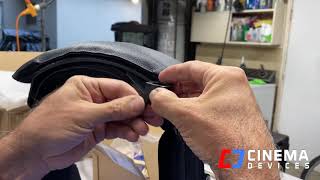 ---
I need an Ergorig right away! Do you offer expedited shipping?
---
Yes, please email us for expedited shipping costs. Please include where you need it and when you need it by. We can also use your FedEx, UPS, or DHL shipping account number if that's easier for you.
---
---
For any media inquiries, please contact agent Mark Oakley:
Tel: 123-456-7890 | Fax: 123-456-7890 |
If you have any questions, please don't hesitate to reach out!